What Makes Us Different
At Kepma, we do things a lot differently than other guitar companies. In fact, you might think all guitars are made the same way. But they're not. Jack Peng worked for other guitar factories and saw first hand that "hand made" isn't necessarily better. Having a machine complete a manufacturing process also isn't the answer. Instead, it's takes a new philosophy and a commitment to a different approach that make Kepma Guitar Company the newest breed in guitar builders. Melding science and art is a simple stated mantra but Kepma's manufacturing process is an actual testament to the credo.
Kepma Reference Guitar Vault
The Vault houses premier guitars from custom makers around the world and are used as standards for tone, construction and quality that go into making Kepma Elite Series guitars. The collection includes instruments costing hundreds of thousands of dollars.
Anechoic Chamber
Sound tests are performed in the anechoic chamber capturing each nuance of what makes a guitar perform. Kepma's mission is to recreate that and replicate it consistently with each guitar manufactured.
Kepma Training Center
Kepma provides factory authorized repair certification for our Elite service centers. This ensures any repair needed to your guitar is made to factory standards.
Climate Controlled Manufactuing Process
Temperature and humidity is strictly controlled throughout the manufacturing process. This provides the perfect environment for the raw materials to maintain proper levels on moisture content.
Ultra Clean Environment
Attention to detail is paramount to Kepma's philosophy and it prevails down to the Jack Peng's insistence on a quality work place. From the R&D labs throughout the building, emphasis on a clean environment is strictly adhered to.
Air Showers
Before entering any part of our climate controlled facility, each member of the Kepma Manufacturing team must enter the Air Shower which removes outside dust and minute particles that could interfere with certain processes.
Commitment to Automation
Kepma's arsenal of manufacturing equipment including CNC, lasers, robots, Plek neck stations and custom-made machines provides unparalleled quality and repeatability in manufacturing. No other guitar manufacturer in the world has such a wide array of equipment to manufacture acoustic guitars.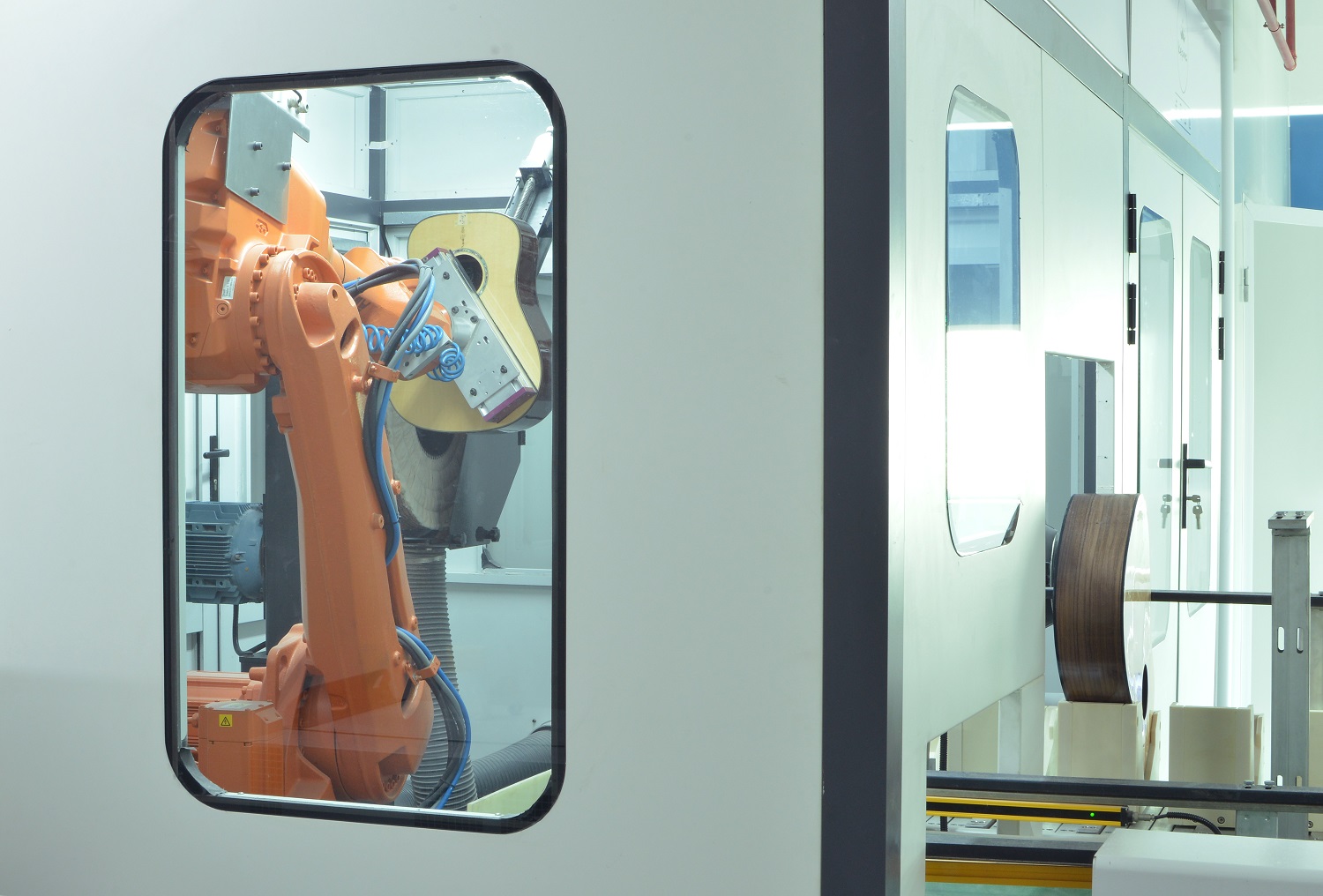 ABB Robotics
ABB is the world's largest maker of robots and particularly excel at difficult tasks like sanding, buffing and painting. A minor human error in finishing a guitar can cause the entire process to be reworked or can render a guitar useless. The Kepma finishing process is performed in the same way as other musical instruments companies such as Steinway Pianos.
Plek Work Stations
Kepma was the first guitar factory in Asia to utilize the German-Made Plek neck / fret machine. Not only are they used in manufacturing, but also in R&D and QC operations. Service Centers around the world charge up to $400 to analyze and Plek your guitar. Each Elite Series guitar is "Plekked" before it is shipped to you.
Vibration Room
Each Kepma Elite Series guitar is subject to 300 hours of vibration induced "aging". The preferred balance, resonance and tonal range of vintage guitars come from hundreds of hours of actual playing time. Our custom designed simulators vibrate the instrument at a prescribed range of frequencies to bring out the tone of the guitars natural wood.
Kepma Guitar Factory, Circa 2008
At Kepma, it has always been about the people that want to work in an industry they love - making music. Here are some of the original Kepma Factory craftsmen and craftswomen that began to execute Jack Peng's plan of making a product - Perfect. Every Time.
Kepma Guitar Factory, Circa 2018
From a small, motivated staff of guitar players and music lovers to over 250 dedicated employees, Kepma today is still focused on making the world's finest premium acoustic guitars.